You Ji's VTL1000ATC+C at EMO 2023 Hannover
The Gold Standard in Vertical Lathes Across Industry Sectors
Hall 16, Stand D23
---
Every two years, EMO becomes a mecca for machine tool enthusiasts and professionals globally. Among the plethora of innovations and displays, one name echoes with a unique resonance: You Ji. This year, they proudly unveil the VTL1000ATC+C, a masterpiece that further cements their reputation as the world's largest vertical lathe manufacturer and Taiwan's largest machine tool factory.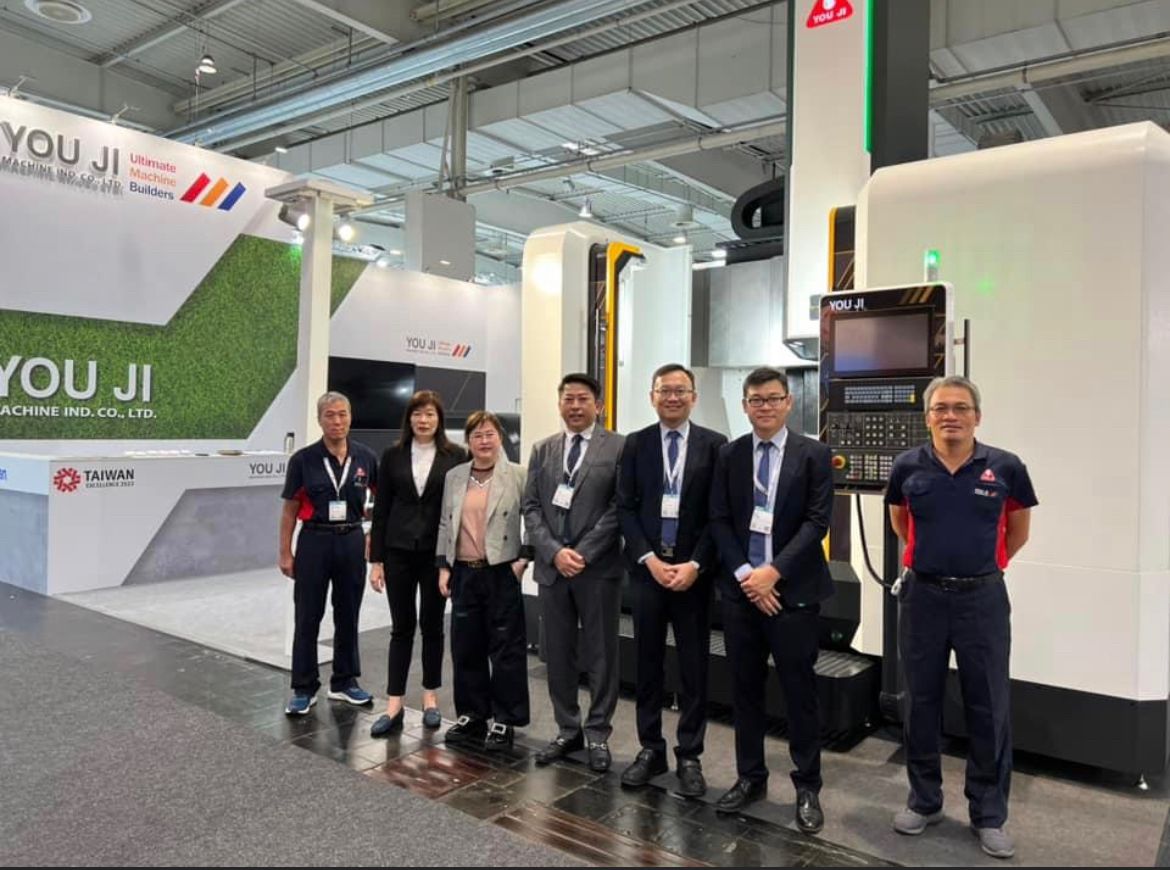 You Ji EMO 2023 Stand Meet the team
You Ji's Global Dominance: A forerunner in the realm of machine tools, You Ji's dominance isn't merely regional. Their stature as the world's premier vertical lathe manufacturer and the crown jewel of Taiwan's machine tool industry has been earned through consistent innovation, relentless dedication, and a commitment to quality that is second to none.
VTL1000ATC+C: Beyond Just Machining: The VTL1000ATC+C stands as a testament to You Ji's engineering prowess. More than just a machine, it's a beacon of precision, flexibility, and user-centric design. Its unveiling at EMO Hannover isn't merely a product showcase; it's an affirmation of You Ji's place at the pinnacle of the machine tooling industry.
Trusted Across Key Industry Sectors: The trustworthiness and reliability of You Ji's vertical lathes aren't confined to one niche. They are the go-to choice across various critical industry sectors:
Power: In an industry where precision and reliability are paramount, You Ji's vertical lathes ensure seamless operations, driving efficiency across power generation and distribution systems.
Oil & Gas: The demanding and high-stake environment of the oil and gas sector requires tools that can withstand exotic materials and heavy metal removal rates.
Aerospace: With aerospace engineering pushing the boundaries of what's possible, You Ji's lathes offer the precision and accuracy that aerospace giants rely on.
Rail: Ensuring that rail networks run smoothly requires tools that can deliver consistently high performance, and You Ji's lathes have become an integral part of this sector.
Commercial Vehicle: You Ji's lathes drive production lines with speed and impeccable quality.
Experience Precision at EMO Hannover: As attendees traverse the vast expanse of EMO Hannover this week, You Ji's stand promises to be a confluence of engineering enthusiasts. Here, attendees can witness the VTL1000ATC+C — not just as a machine, but as an embodiment of You Ji's commitment to industries that form the backbone of our modern world.
If there's one place at EMO Hannover that offers a glimpse into the future of precision machining across diverse sectors, it's the You Ji exhibit. Don't miss the opportunity to be part of this transformative journey with the VTL1000ATC+C.
https://www.tdt-machinetools.co.uk/wp-content/uploads/2023/09/You-Ji-VTL1000ATCC-at-EMO-e1695121710941.jpeg
1289
1170
tdt-admin
/wp-content/uploads/2021/06/TDT-logo-white-border-small.jpg
tdt-admin
2023-09-19 11:07:22
2023-09-19 11:19:38
You Ji's VTL1000ATC+C at EMO 2023 Hannover